The Land of Fire and Ice
Road Tripping The Ring Road
My boyfriend, Reyce, had I have been together for a solid 5 and 1/2 years (well, as of this post's date, of course). From performing silly theatre gigs on our high school stage to road - tripping around the entire ring road of Iceland — this boy is my best friend through and through.
Last Christmas, I begged for him and I to go on an international exploration this upcoming year. With the many accumulated camping trips and dirt-bag excursions under our belt, we wanted one more trip to call our own. I pleaded to him on my knees for a journey down in South America, the romantic Incan badlands were calling my name.
As promised, he sent over a PDF detailing a very inclusive trip to Machu Picchu for my Christmas present. He didn't buy any tickets to anything yet, as we wanted to wait to seal the deal. However, after many yearning hours searching for the ultimate adventure, it just wasn't hitting us in the gut. Our budget, schedule conflicts, and desires became haunted after a few errors that came our way. Ultimately, we wanted to wait 'till we could afford a 2-3 month-long backpacking journey through South America to end near Patagonia (because if we're already that far down South, might as well make it epic!). So, this trip is postponed. (Super excited for these plans, actually!!!)
I still wanted to travel with him though, obviously. But where? After feeling a bit bummed from our South American post-potage and I began to quickly itch for a solution. After rummaging through countless flight details on the internet, I quickly realized the amazing deals to Iceland with WOW Air (no, this isn't sponsored — just genuinely impressed with how crazy cheap the flights were). We stood in the kitchen of Reyce's cozy home and bought them without any hesitation. We're going to Iceland.
Below are compilations of journal posts from our journey, including a link to the Google Map we used to navigate our beautiful surroundings. Don't hesitate to email any further questions if you're planning on visiting this beautiful place, it can be a bit overwhelming to figure it out yourself! We're such dinguses.
Journal Post #1: May 5th, 2017:
Spending this quiet afternoon downstairs on the lounge beneath our 12-bed hostel. Reyce is snacking on powdered Triscuit crackers and I sit here in a comfy Scandinavian chair sipping a -500ISK Americano. We've here for an exact 30 hours and have already experienced some of the most amazing sights:
I.) Sparkling wine at the Blue Lagoon (MY FAVORITE!)
II.) Homemade cod drizzled in white wine made possible by Anton an Olena; the two best Air BnB's host known to man.
III.) The cutest off-roading vehicle made possible by CheapJeep.
This trip marks it as the first international experience for Reyce, which has him super stoked. First time flying over the ocean!
Can't take these little things for granted.
Journal Post #2: May 6th, 2017:
Onward and out. We drove the Golden Circle as soon as the sun shined bright; kissing our cool skin with warm tones of comfort. Iceland temperatures here are scarily brisk — my desert salamander-like blood can only handle so much. Once we arrived to the infamous Geysir, we took some pictures and got the hell out of dodge. WAY too crowded. Too many dads with their tripods and screaming, ungrateful children who truly have on idea where they are.
We drove South, paying very close attention to detail on the road and sitting in awe of how beautiful this place is. What's funny is how this country is completely free of all vegetation; no trees, no natural grass, no bushes, no wildlife. A landscape that seems as though a wolf would jump out at any second so desolate and quiet. Just the way we like it.
Hours rush by. Tiredness and restlessness ensue and we passionately fight the urge to jump out of the car. We finally reached the waterfalls along the Southern Coast. Hot damn this place was a dream!!! Yes, three exclamation points were needed. I forget how to spell the names of these attractions (lol), but trust me — they were rad. We got busted down by the crazy amount of misty goodness that overflowed from the waterfall's pools. SO. WET.
We drove South. Up through the highlands, over the many coarse bridleways. Reaching the black sand beach was our peak — Reyce straddled himself to the rocks to grab sweet photos of the place as I run back in the car to avoid the gusty, cold wind.
We rest for the night in the middle of nowhere; cuddled up inside the warmth of our car. We're located past Vik just right before we border the glaciers. We sleep.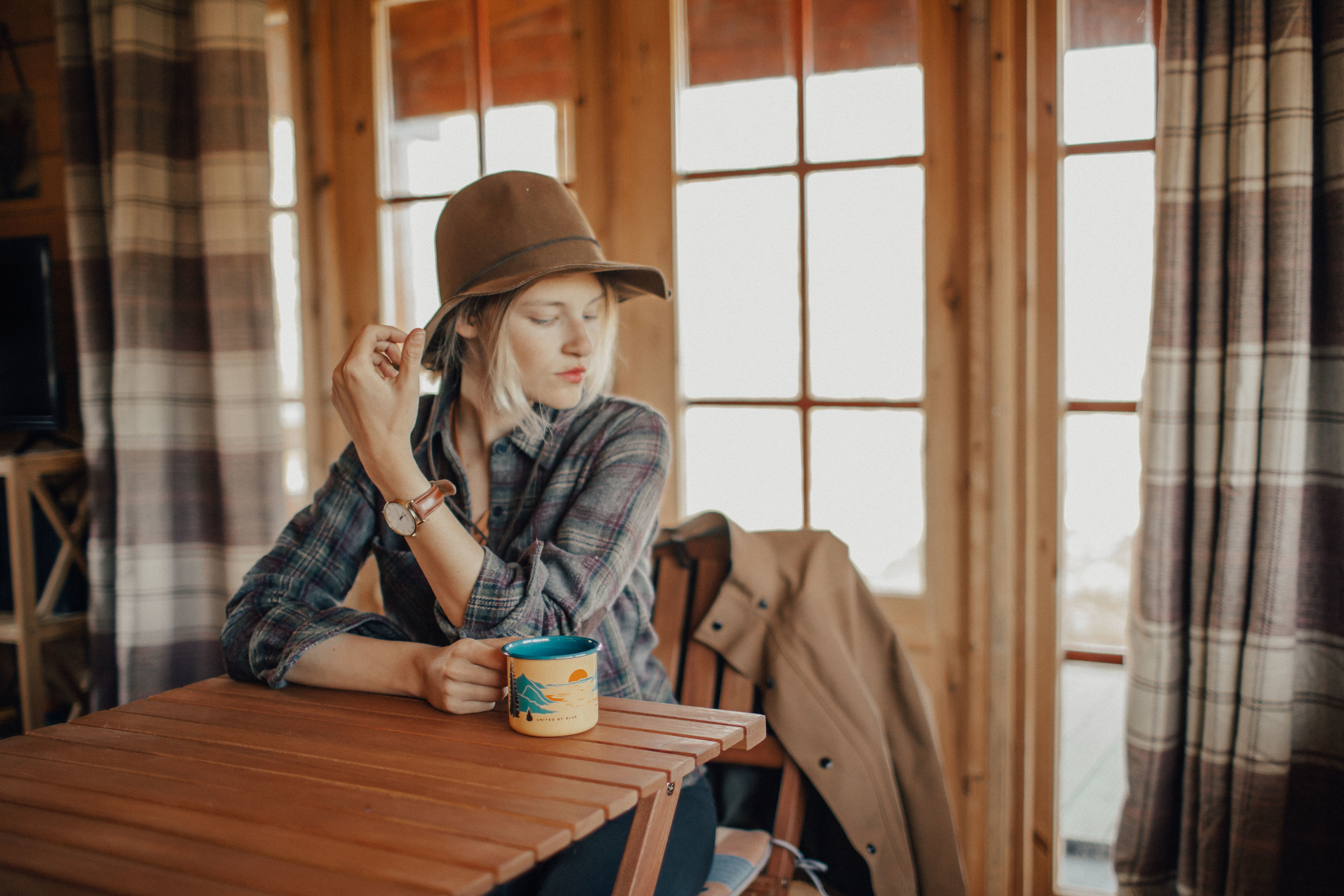 Journal Post #3: May 8th, 2017:
$5-$6 for a damn cup of coffee? Seriously? How is this at all reasonable? I savor each sip with an intentional taste, secretly begging for more but not wanting to pay an extra $5 for another 8oz cup. What a drag. Good stuff, though…
We drive through the many beautiful glacier lands and got lost in the process. Well, I got lost — Reyce won't ever let me live that one down. He always says I'm terrible with directions, but I don't like to entertain his stupid opinions. Even when he's right. Which he is, like, 90% of the time.
I'm astounded by the many different facets and colors that are tucked around this landscape. The bright blue glaciers next to the dirty roads and black volcanic ash. A natural rainbow of wonderment.
Reyce and I arrived to a cabin of our very own that was tucked away in the expansive woods nearly 40km away from Akuryei; the cutest, quaintest little town in the Northern part of the country. This area is completely free from tourists and my heart is happy. Taking our own rental car through the adventure on the Ring Road is much advised — would to it over and over again (thanks, CheapJeep!). We made our own delicious cooked pasta dish and snuggled up after a long, hot shower. The. BEST.
Journal Post #4: May 9th, 2017:
"I've got about 50 hectors or so, which is actually pretty small here in Iceland", says Hermann, a local farmer on the Northern rim. His sweet disposition and fatherly love he had for Reyce and I was my favorite part of our journey. He showed us around his entire farm, telling us stories about his love for horses, and how he earns his wages to sustain this big of a farm on the island. It's truly incredible how Icelandic folk can live their life in peace with what little they might earn compared to us Americans. Its easy for them to receive great health care and if they want to attain a wonderful higher education, they can do it affordably (SHOCKER!).
The coolest part about this entire experience, though, was being present for his sheep's birth! He owns more than 40 sheep and one of them just so happened to give birth as soon as we pilled them into the shed. I didn't get to really see much of the process, as it all happened so quickly. But, like, what the hell?! How cool?
We're now FaceTiming Reyce's dad, itching to see our sweet River boy in the background. He was so gracious enough to watch over him during out retreat — thanks Remy!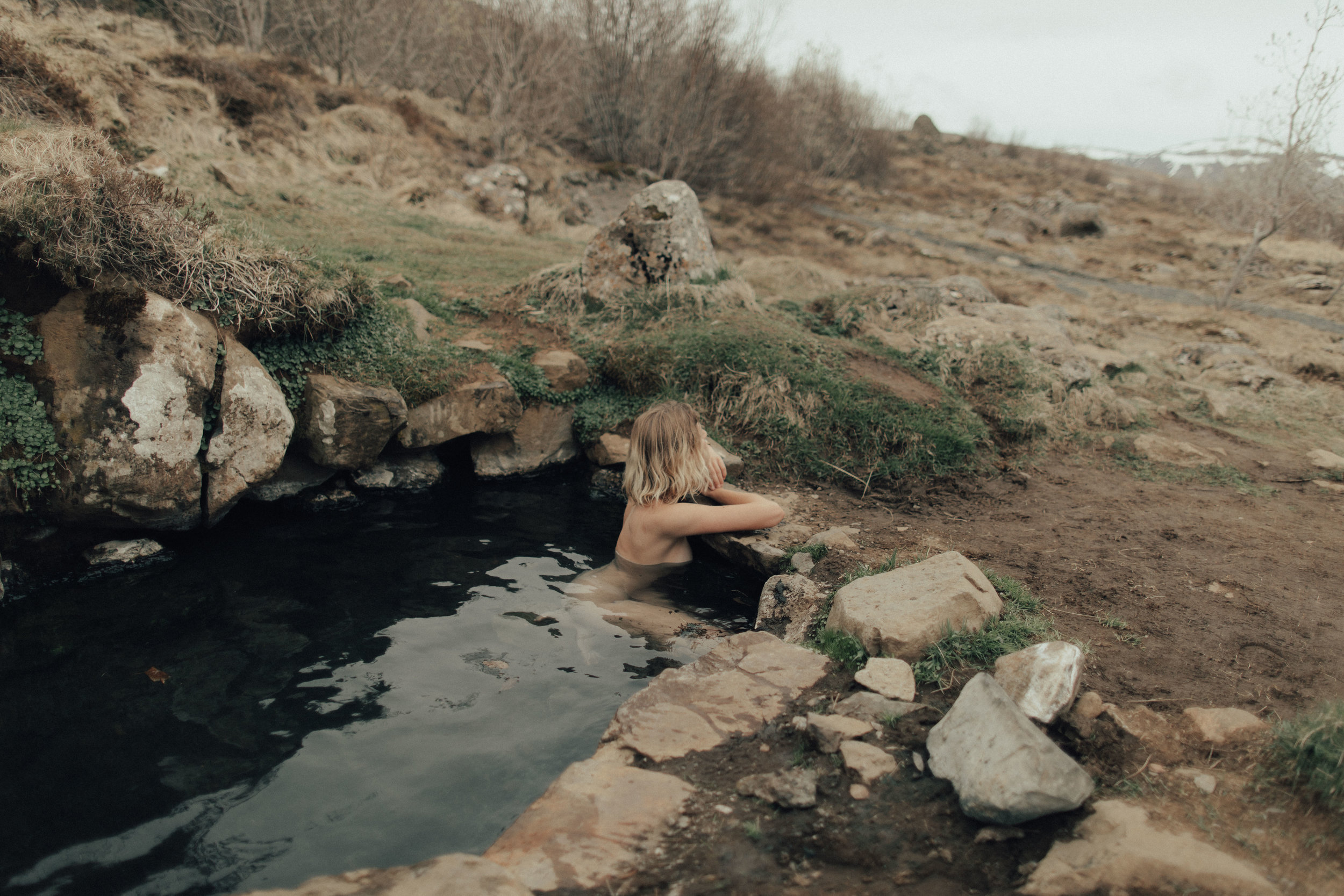 Journal Post #5: May 10th, 2017:
We drive and drive and drive — through the woods and to grandmother's house we go! Just kidding. Not really.
We did, however, go searching for a local hot pot that was supposed to be "just off to the side of the road by a mountain", according to hotspringsoficeland.org. We didn't find much, though. As our disappointment grew wearily, we looked at Apple Maps just one more time and may have found a brief solution. Facing West, we sped down the dirt road and came across the COOLEST hot spring all to ourselves about 1km into the open land. The extreme winds made it difficult to bear the cold weather, as we immediately took off our clothes and dipped in the hot water without our suits. No time for that.
We made out a little which was nice. Oh my god, this place was a dream.
Journal Post #6: May 12th, 2017:
Our time has come to and end. We return our thick blankets, gave back the rental car, and pulled out books from our check-in bags to our carry-on for the long flight home. I'm excited to edit through our pictures / video upon arrival to the desert. I want to relive this adventure over and over again.
Over.
And over.
Again.
Next lover's journey: South America.