The Belly of America
(...And Canada)
Journal Entry #1 (August 1st, 2017):
Groggily waking up on the first day of August with crusty eyes and a pounding heart. Today's the day! Both of us are equally doomed with excitement and dread to finish packing our essentials before we hit the road. Although we meet at a much later time that originally anticipated, we are ready to rock and load.
1 hour passes by.
2 hours.
5 hours.
9 hours.
11 hours.
13 and a half hours, 3 albums of "Young the Giant", and a belly full of Albuquerque spiced nachos later… and we finally made it to Denver.
This trip will be, of course, spontaneous as spontaneous gets. With almost zero plans other than knowing a brief overview of where we are supposed to go, we continue to venture out with the Subaru Outback anyways. No real plans of where we'll be each night, no concrete grocery lists, no way of knowing how much money we'll be spending by the end of our two weeks. Such minuscule concepts are on the back burner for us. We've got a road to kill.
Journal Entry #2 (August 2nd, 2017):
I awake on a stranger's hairy couch that reeks of poor choices.
Cristina and I arrived to Denver late the previous night (like, I'm talking 1:45am late) to one of her long-time friend's house in the Wheat Ridge neighborhood. Her pal, Juno, more than welcomed us to come crash at his place for the night after an insanely delirious travel time. 13 consecutive hours spent behind the wheel totally rains havoc on a human's body. Juno and his roommates, however, partied a little too hard the night before, as suggested by the millions of beer cans spread across the living room floor. As soon as we walked through Juno's back door during that late hour, Tina peers around the corner to see a drunk blonde woman sleeping spread eagle across the intersectional sofa. Oh… well, alright.
Tina and I tightly ball up next to each other on the black couch — totally drunk-girl-free. Alas, a way to sleep. Goodnight world.
The next morning, after sipping three glasses of water and feeling much rejuvenated from our previous endeavor, we had set out for a morning cup of local joe. Driving through the nearby neighborhoods made Tina and I anguish with raging jealousy. The beautifully kept white picket-fence yards, vintage store fronts, a diverse population pool of progressive individuals, dogs on dogs on dogs, and the graceful backdrop of mountain country in the back? Riveting.
"Okay, I have to move to Denver".
We continue this banter over the course of two hours while following the windy roads to Rocky Mountain National Park; swooning and dreaming of living in the euphoric Colorado. Our desert-born hearts have simply outgrown our roots. And, of course, our treks through the insanely gorgeous green pastures of the Rockies that day certainly didn't help.
We have fallen in irrevocable love with this landscape and culture.
Our time spent under the bi-polarized weather patterns became one of my most precious memories. Tina and I sat on the bank of Emerald Lake over 12,000ft in the air completely in awe of the vibrant foliage. It was a real treat to see how rapidly the sun hides the clouds when the rain begins. We struggle to gather our things in quick haste to run down the trail. Rejuvenating ourselves with a cup of mountainside coffee and handfuls of salt-and-vinegar chips to keep us alive and well for the drive North towards South Dakota.
We listen to various podcasts and a million of different road trip songs as we roam through Colorado's countryside. Off to our right lays a brilliantly clear rainbow so striking we could have sworn we'd seen a leprechaun sliding down its edge.
Hours later and we find ourselves riding through an odd patch of forest in Eastern Nebraska. Yeah, fucking Nebraska. Who knew that the route from Rocky Mountain National Park to Badlands National Park would run us into corn country? We sure as hell didn't. Nevertheless, we pull over to a campground on the side of the road and gulped down a packet of freeze dried Fettuccini Alfredo courtesy of Walmart.
This. This is what life on the road feels like.
Journal Entry #3: (August 4th, 2017)
Dark skies gloom over Great Falls, Montana. I clutch my toiletry bag to my chest as I urgently walk to the nearby restroom at our KOA campground in the middle of nowhere. I stop in my tracks after hearing terrifying noises coming from my right. Angry squirrels? A big, angry bear lurking through the forest? Oh, no. Just a couple serving aggressive sexual pleasures to one another under the tarp pull-out of their grungy camper. Can't say their not having a great time, though. A variety of high-pitched moans mixed with swift bodily movements suggest multiple positions taking mold… LOTS of movement. I luckily wasn't the only one hearing this sexual feat, all their cul-de-sac of neighbors talked about it the next morning.
Although I thoroughly dislike the word, "blessed", as if it has to serve a theocratic purpose — I am truly blessed to have Cristina as my road-trip mate. Her and I share similar interests and respect each other's travel priorities. She likes to make sure we have a place to stay each night, I like to make sure I have a cup of coffee each morning. She can sustain long driving distances through the night, I can only sustain a healthy 4 hours behind the wheel before I want to gauge my eyeballs out with a rusty pair of scissors. We mesh so perfectly together. We're even completing our own writing projects on our laptops as we speak. In the forest. Next to wild deer.
Find yourself your travel partner and hold onto them with all you've got, sister.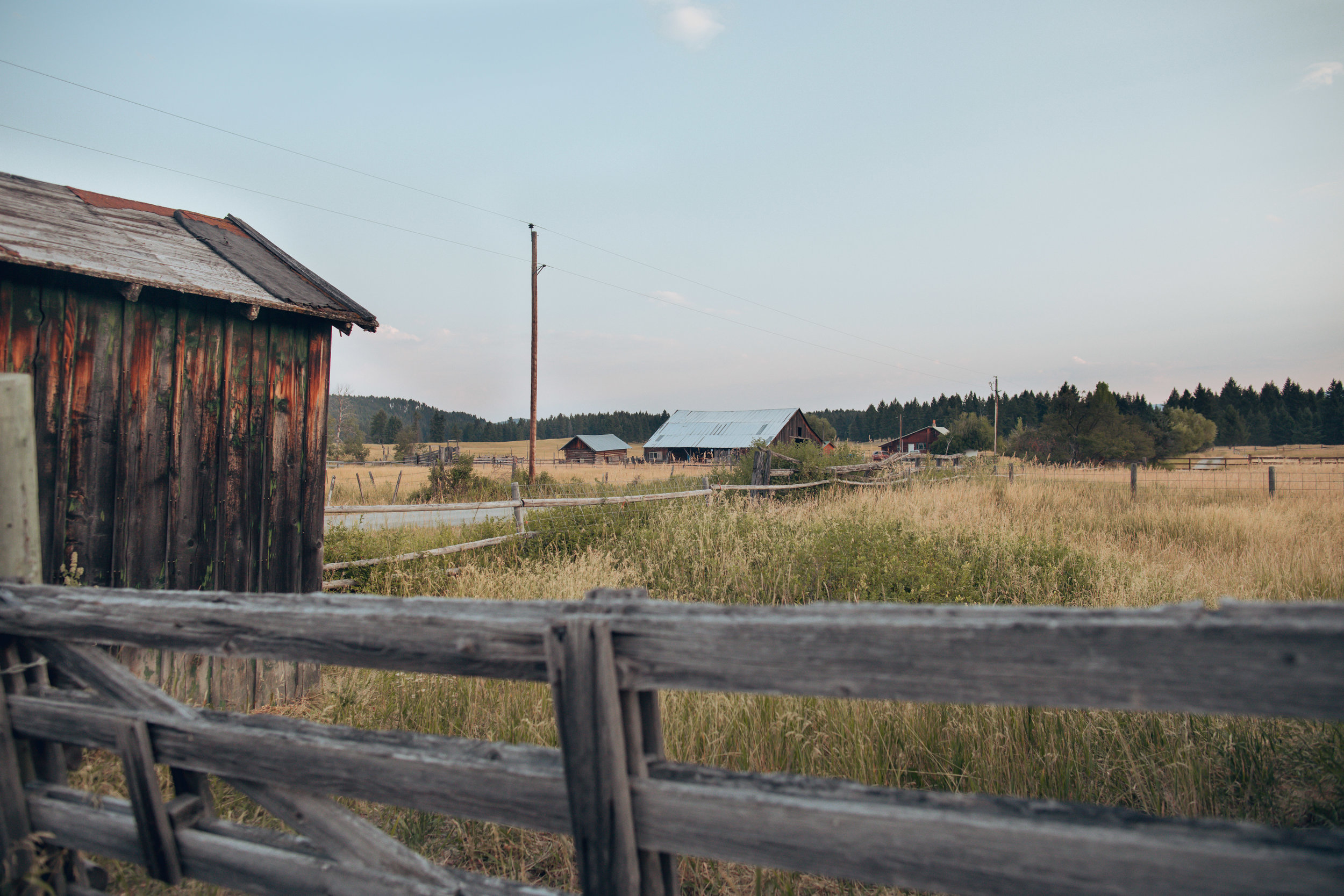 Journal Entry #3: (August 4th, 2017)
Sloppy meat-lover's pizza and deliciously crisp homestead ale to wash down the fiery peppers. We see children roaming the open grass fields that kiss the mountainous horizon and smell the sweet huckleberry bushes only feet away. The air feels light and inviting. After ceremoniously checking out phones over the bar's wifi, we laugh over the previous nights' trajectories and debate over how "potable water" is either possibly pronounced "poe-table" or "pot-able". Thoughts?
This is Montana. A state conscious of their beautiful farm landscapes and world-wide famous National Park. A place so full of love and beautiful sights and smells and laughter. A place I could certainly see myself and Reyce open up a bed and breakfast in the later years of our life.
Hours later after our stupendous time spent at the one pizza joint in all of Eureka, Montana, Cristina and I drove for what seemed like hours to find Casey and Andrew's nearby farm. Although this place has a population of what —25 or 30 people (?) — we couldn't find their damn land if our life had depended on it. On the verge of giving up, we swiftly pulled over to the Trego Pub and asked the local baristas where in the hell we were supposed to go. Remarkable kindness then pointed us just down the road, over the hill, behind the school… and alas. We made it.
We pull into Casey's 8-acre ranch desperately trying to not run over any of the chickens, as per requested. Casey's vibrant personality is seen across the driveway as she jumps with excitement to greet us against the dark skies. She wears a black pull-over sweater, scrappy flip-flops, and wears her blonde hair in a loose ponytail. Her smile is contagious.
"Y'all are more than welcome to come join us by the fire!" She says with hospitable taste. A large group of her and her boyfriend's buddies are enjoying themselves with several cans of beer over an open-propane fire. Level II of fire restrictions have struck Montana's lands for the next few weeks until a rainfall blesses the dry shrubs. A little government resection won't take down these folks, eh?
Cristina and I made our to the group after setting up our roof-top tent for the evening. A gentleman with long curly hair and an equally long curly beard warmly greet us first while the rest follow. The dirt reeks of hoppy fields and burnt turkey burgers. Multiple conversations scatter across the many mouths in the talking circle, all coming together on a beautiful Saturday evening after burnt out work weeks.
11:13pm and Tina and I snuggle tightly inside our sleeping bags atop the Outback.
"What a day".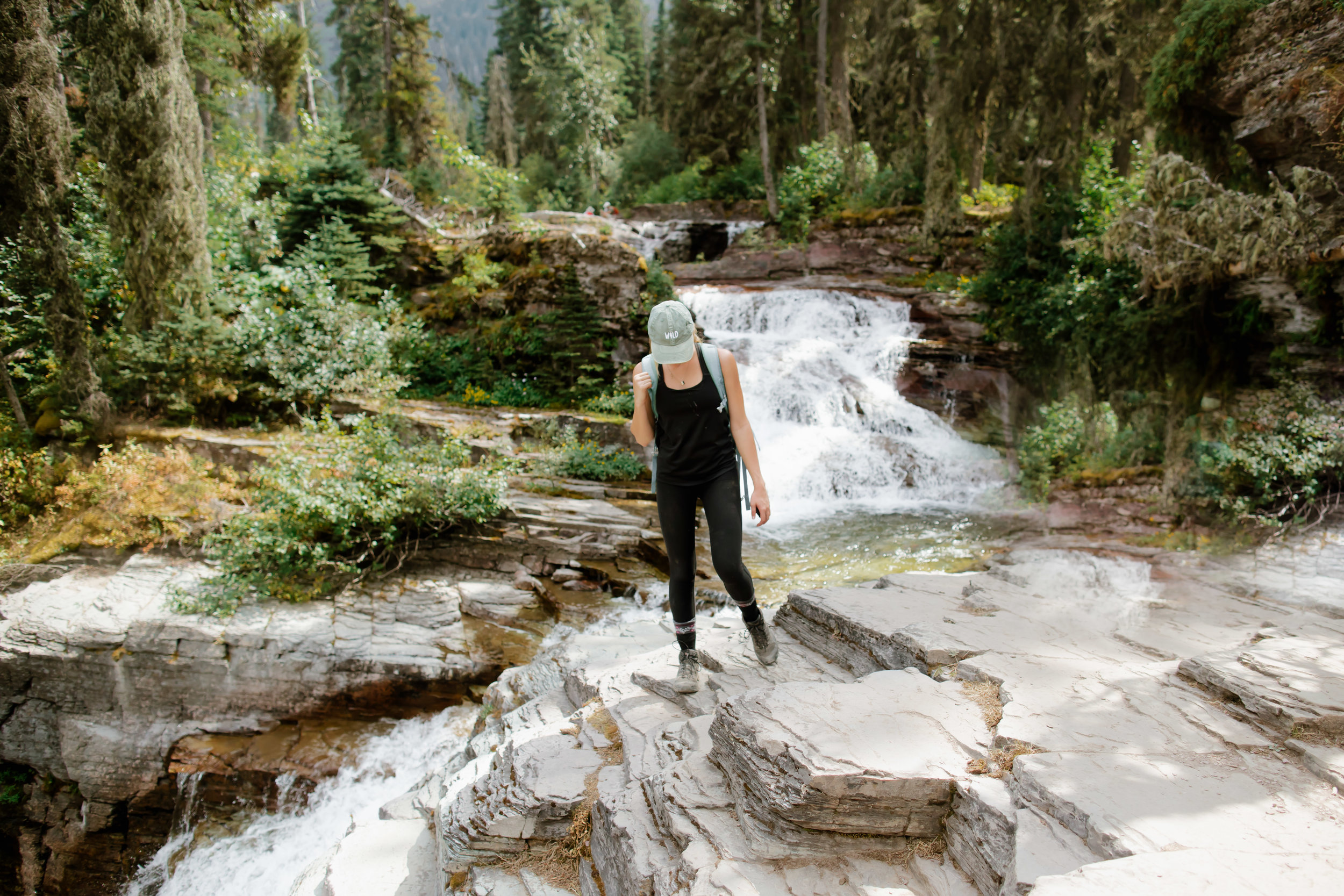 Journal Entry #3: (August 4th, 2017)
It's roughly noon and we're driving through butt-fuck Canada to urgently get back to the States so we can enjoy Yellowstone National Park and the infamous Grand Tetons. I hate this country. Well, hate might be a strong word… but Canada's policies for everything is wired so uniquely from ours that I can hardly wrap my head around it all. Plus, AirCanada from my trip back from Zambia was a nightmare in and of itself for reasons I don't have the energy to get into. Get me back to the Western frontier as soon as possible, please!
Earlier today I had a phone call with my mother. She kindly asked if I could go with her to Knab, Utah to renew her license tags (long story) and make a little trip out of it. Possibly camp near Lake Powell? The thought of it made me so excited. Unfortunately, to my utter dismay, the only dates she could go this month simultaneously landed on the dates Eunice and I are in Portland, OR to photograph a wedding.
Today is also the 22nd birthday of my best friend, Maggie. Her and our groups of friends will all be out partying on Mill Ave and I'll most likely be on my fourth day of not showering while trying to find a place to pitch the Subaru.
Traveling is all fun and games until you miss the important dates of your loved ones' lives. I barely get to see neither my mother nor Maggie as much as I like to. Our schedules are unfortunately becoming drastically different making it nearly impossible to hang out like we all used to.
Although I love catching the wanderlust bug by finding myself half way across the world in India or Africa (or in this case, Canada) I really, really miss the intimate moments spent with my friends and family. Most people would kill to be in my position as a freelance traveling photographer, but all good things must come with some sort of sacrifice right?.
Today, I miss my mom. I miss my birthday girl. I miss my dad's silly hot-headed antics and my boyfriend. And though I can't see these precious faces immediately, I'll be more than elated to enjoy this crazy adventure of living on the road for two weeks.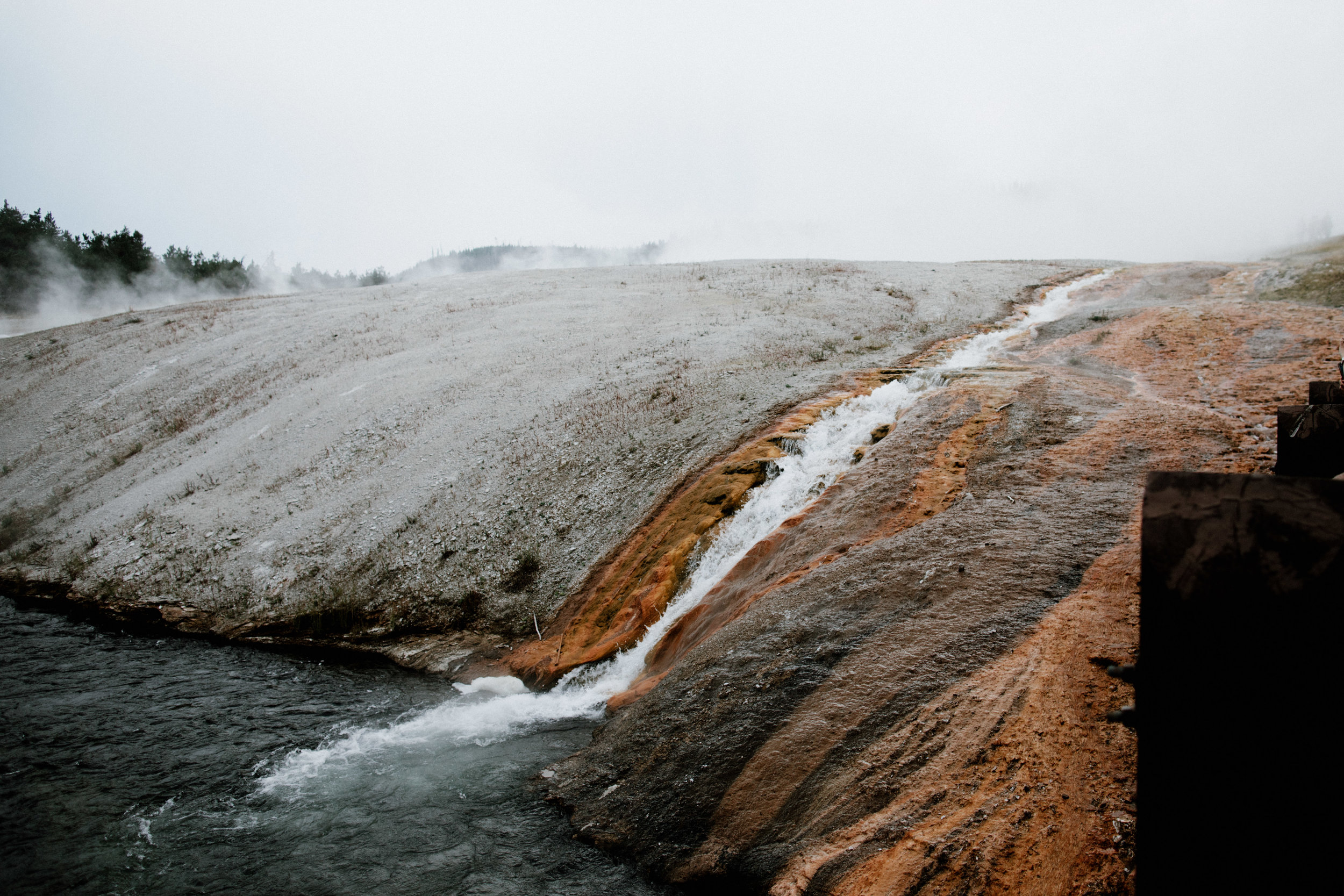 Journal Entry #6: (August 9th, 2017)
Today is literally my, hmmm — 7th or 8th day of not showering? Cristina has one more day on me since she denied a hot shower at the KOA in Great Falls, Montana. We've been keeping our selves well kept, however, through a series of excellent hygiene practices. Wet wipes, deodorant, perfume, gum, and the brushing of our teeth at least three times a day after every meal. The tent still smells fresh, the Subaru smells of general store groceries.
Over six hours of driving later and Cristina pauses our new obsession of the "Serial" podcast to brieflytell me that the gas tank was a bit low. I told her to press forward because the Outback likes to overdramatize dashboard details. We drover further despite her very understandable concerns. Before you know it, our car is becoming increasingly stressed while it climbs up a hill just 3 miles outside of Livingston, Montana. Tina calmly tells me that the gas light has flatlined and that she can no longer press the gas. We immediately pull over to the middle of a grassy medium and watch the sunset on the side of the road as we wait for AAA to pull through.
We're laughing our asses off. How stupid could we be? According to every classically made American road-trip movie, shit like this happens and you have no other choice but to laugh it off and move forward. Hundreds of cars pass us by without a care in the world. West of the road lies the most glorious sunset we've ever seen; salmon pinks, burnt oranges, and turquoise mountain ranges begin to bless our eyes. We become utterly underwhelmed of our mistake that we take the time of recollect of how wonderful our time has been during this adventure. We become so distracted by our comical thoughts that a motorcycle accident happens just moments after our gas flatlined. Don't' worry — no one was hurt.
Thanks to Tommy from AAA for the extra two gallons of fuel. You rock.
Tina and I pulled into the gas station that lied quite literally 3 or 4 miles at most from where we ran out. After correcting the Outback with an appropriate of substance, we headed straight to McDonalds for a root beer float and Wifi date.
It's 9:37pm. We have no campsite reserved.
We didn't even care.
Journal Entry #7: (August 10th, 2017)
Many of the National Parks I've been are far too often over-hyped on social media; people love over-romanticize places with highly edited picture frames alongside fake deep captions. It can be a bit surreal to travel to the monumental post-card worthy areas. Due to such notions, my expectations are usually bound by the expense of fellow tourists' opinions.
However, I must admit... I was profoundly stunned by Yellowstone and the Grand Tetons. These National Parks, to me, are what a true wild America looks like. Although we weren't graced with the opportunity to see the land's wildlife face-to-face, we still managed to be in awe of the obligatory identity sketch.
We fail day after day to reserve a spot with a campground; this is where our carless spontaneity get both best of us. We reach the end of a 10-mile rocky road several kilometers away from Yellowstone to pitch our car. Vegetables and spicy Korean noodles boil in the pot as I set up "27 Dresses" on my laptop for us to enjoy during our dinner.
Journal Entry #8: (August 11th, 2017)
Both Tina and I have been intimately expressing our love for travel with one another for years. Following the countless coffee conversations, we'd finally quenched our long standing thirst for wanderlust. It felt equal parts fated and haphazard like any good adventure should. Living on the road does a beautiful job of collecting a myriad of memories only crazy asses like ourselves would willingly do again. Again. And again.
Picture it; two women scanning the ribbed edges of maps inside a poorly organized vehicle gracefully working through faulty corners. Tirelessly pulling out the ingredients for dinner, organizing it back in such a way to deter from bears, and doing it all over again twenty times over. Filling the low tires, gauging the tires, locking and unlocking the tent. The shrug of carelessness for a 6 hour drive ahead of us.
Resilience.
5,000 miles later, I wipe the sweat beads off my forehead in the driveway of my father's house. Checkers is barking incessantly through our broken front window. My boyfriend texts me asking if I want In-N'-Out. I marvel at the desert's sophisticated sunset.
I'm home.